Sugar sticks (packaging services)
Sugar sticks
A cup of aromatic tea or coffee reveals its taste in a special way if you add sugar. For this reason, it should always be where guests and visitors are offered these drinks.
The most convenient format is sugar sticks. It is convenient and in addition has the following advantages: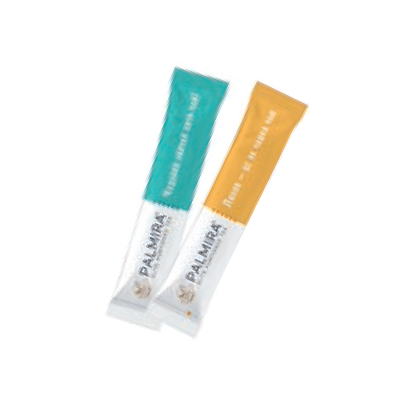 portioned sugar takes up a minimum of space on your showcase and does not affect the overall appearance of the display of goods;
sugar sticks have an exact dosage of 5g, which corresponds to one full teaspoon;
individual packaging that your customers will appreciate;
no need to use additional dishes and accessories.
It is convenient to use sugar sticks, and this format has already become familiar. The client can add as much sugar to any drink as he sees fit, in accordance with his preferences.
We offer our customers sugar sticks in transparent plastic bags of 200 pieces. All sugar is dosed using modern equipment and meets all quality standards. This product of TM Palmira is ordered by the owners of bars, restaurants, coffee houses and gas stations.
Sweetener from TM Palmira
A good business owner of the HoReCa segment always takes care of all his clients, without exception. This means that it is important to satisfy the needs of those customers who do not use sugar. For example, it may be related to a healthy lifestyle or eating a healthy diet.
For such cases, we offer to purchase a high-quality natural sugar substitute - stevia. Stevia is a plant of the family Asteraceae and is used in the production of products for people who have decided to give up sugar and are looking for a decent alternative. In our online store you will find stevia tablets - a package with dispenser, 300 tablets per package. This format is most comfortable to use to sweeten your drink.
Sugar packaging and branding services
Our company has at its disposal high-tech European equipment that allows to pack various products in sticks and sachets with an accurate dosage.
Here you can buy wholesale sugar sticks on favorable terms or order packaging and branding services. You can find out the details and get prices for wholesale customers and distributors by calling our managers, who will be happy to answer all your questions and take an order.